Here's the deal with employee training: it's hard.
You and I both know it, there are tons of stuff to consider. Like how to ensure the learning process is effective and can easily translate into company growth. Or how to keep the employees engaged and motivated beyond a mere night's sleep. Or, crucially, how to take care of that budget so it doesn't skyrocket beyond recognition and send you straight into the Ninth Circle of Hell.
If you're thinking about those things, welcome to the club!
While your Managing Director is out and about every day telling you how you should think strategy instead of tactics, proactively instead of reactively, we thought we'd move down to business and share some thoughts with you.
Training programs
Are important, yes, but their evaluation is even more so. Neither you, as a client, nor you, as a trainer will be particularly happy to invest more human resources, money and time into something that didn't work out like it was supposed to the first time around. As an integral part of the training, the evaluation has to be a systematic process. Why? Because you need to be able to measure the impact of training, you need replicable criteria for it and you need to have it done routinely so you can detect patterns of evolution over time.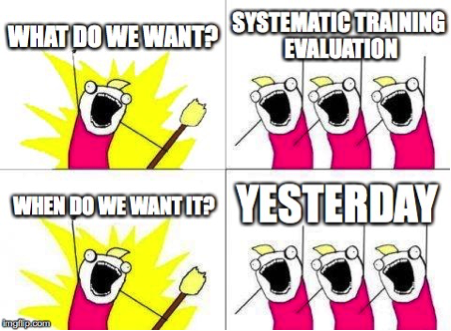 Does all that sound like you already need a break?
Don't worry. We like things simple too.
So here are the 17 methods that will get your training evaluation down to a T.
We compiled everything you need to think about into this one checklist that includes graphs, best case practices across the board and most recommended methods for selected types of business.
Instead of going for the infamous Happy Sheets, try asking for targeted feedback on each session as the day progresses. Take advantage of those memories fresh in people's minds and get some proper feedback, instead of the big, all-encompassing "Congratulations!"
This is the 1st level of evaluation in Donald Kirkpatrick's famous 4-Level model. Kirkpatrick, Professor Emeritus at the University of Wisconsin and past president of the American Society for Training and Development (ASTD), first published his Four-Level Training Evaluation Model in 1959, in the US Training and Development Journal.
After 3 days tops, send a follow-up quiz testing knowledge, skill level and attitude. See what they've learnt, the 2nd Kirkpatrick Level, and easily check all of it against the training's initial objectives.
The US Office of Personnel Management uses the Kirkpatrick Model. To help agencies in the US government implement it, they published the 2011 OPM Training Evaluation Field Guide, to which you can find an abridged version here. See how they advise implementing each level and how you can adapt that for your organization!
Look at this graph featured in Learning Solutions Magazine to see how much your employees will have forgotten with every day that passes by!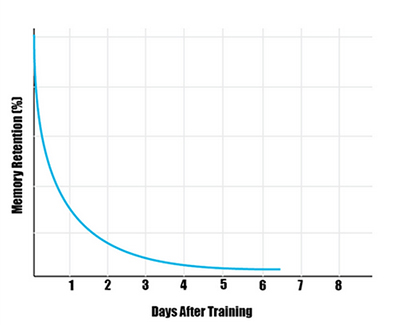 Around 2 weeks after the training, send a questionnaire asking for detailed answers and concrete examples of the ways in which the info they were given was useful and applicable in their day-to-day jobs.
Resist doing this right after the training. Not even our guy, Nostradamus, could read into the future all that well.
Check out this short-term vs. long-term memory model featured in Learning Solutions Magazine! Determine what kinds of learning you can assess at what points after the training.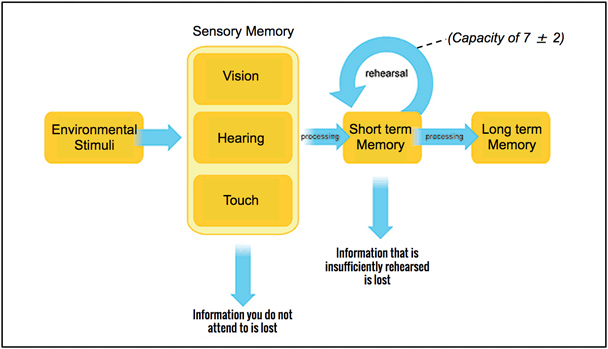 Send out a pre-evaluation briefing to all attendees letting them know why they are attending and what is expected of them, based on their current roles. Start the evaluation even before the training by giving participants a context, as well as checking the training for purpose and strategic role within the company objectives.
Here's a template that will give you a rough idea of what's supposed to be in the briefing. We summarized it for you below:
State the organizational context for the training and its importance.
State the course schedule and explore possible impediments.
State the objectives of the training program.
Discuss how the learnings could be applied and possible barriers to application.
After you've gone through all the follow-up methods above, it's time to go big. Evaluate your training not only on what it has delivered, but on what impact it has achieved. Do the follow-through.
Ask trainees, no later than 1 month after the training, for examples of when they applied lessons learnt and how these altered their usual behavioral pattern. Check for changes in behavior, Kirkpatrick's 3rd level of evaluation.
If you're unclear about the difference between level 2 and 3, here's a quick test, from Kirkpatrick's own official website: An example of a question that could be used to measure Level 3 after training is: I can apply the principles that I learned in training.
Encourage employees to share successful stories of how they reached their mid-term or quarterly objectives more efficiently. Turn these into spotlight articles and share them with wider audiences. Cover Kirkpatrick's 4th and last level and see what the results of the training were, in terms of structural, company-wide impact.
Take a look at this study to see how the Pakistan International Airlines applied the Kirkpatrick Model to its training evaluation.
Next, look at staff complaints. Start measuring these with at least 3 months prior to your training and then compare post-training results with the ones before it.

Send out an open question asking trainees to name one process that could be improved within their department in the next month. Evaluate their level of understanding at operational level and follow through on how exactly their job performance can rise.
Measure employee engagement with learning management systems your company is using. If, before the training, say 10% of them used to click and read through content, a daily or weekly usage of the tool afterwards will likely hint at great outcomes!
A 2014 Gallup poll showed little more than 30% of US employees as being engaged or inspired at work.
Measure the fuzzy stuff, like team cohesion and morale, by administering bi-monthly questionnaires that test for employees' attitudes to teamwork and their colleagues, in general. Check these long-term indicators of the impact of the training.
Gallup also estimates that actively disengaged employees cost the U.S. $450 billion to $550 billion in lost productivity per year, as a result, among others, of low morale issues.
Ask training participants how their role contributes to the success of the business and what their next role-specific milestones should be. See to what degree your employees understand and feel ownership on their role, following the training.
Send out a quiz, right after the training, that focuses on how participants think it could be improved or what kinds of trainings they think they should be having for the next 6-12 months. Make them part of the strategic HR process and cater to their self-esteem – that level in Maslow's hierarchy of needs theory that those of you big on employee motivation will be familiar with.
Follow through by asking training participants to give an interview where they should highlight 1 key takeaway from the training. Turn that into the story of the month and share it with all participants. Save months of hard work in employee engagement strategies by taking on the self-actualization level in Maslow's infamous theory.
Do transfer of training and cultivate leadership in your employees. Turn yesterday's participants into tomorrow's trainers, for their respective departments and teams. Reach a whole lot more people with a whole lot less resources and allow those ambitious stars to shine bright!
Read more to see what specific factors people looked at, in doing training transfer at the Vancouver Island Health Authority.
Work with participants, throughout the training, to set an action plan with medium-term objectives relevant for their current roles. Check-in regularly with them to make sure they stick to it. Ensure a strategic focus for your training but also for the long-term company objective you set out to achieve in the first place.
It's estimated that spending on training programs rose to USD 1,004/employee in the US in 2015. Make sure you follow up and follow-through properly and spread out these costs thinner. Guarantee a greater value for money, not by negotiating facilities, lodging or meals, but by optimizing content and delivery timespan. If your training is a typical one-night stand, chances are it'll bail out on you right the morning after.
A CAP study found turnover varies by wage and role of employee like this: 16% of annual salary for low paying jobs, 20% for mid range positions, 213% for highly educated executive positions.
Studies predict that every time a company replaces a salaried employee, it costs them 6 to 9 months' salary on average, in recruiting and induction expenses. Redirect that employee retention budget towards effective training, do your follow-up and follow through homework and cut back on some of those other expenses in this particular budget.
According to the Bureau of Labor Statistics, turnover is highest in industries such as trade and utilities, construction, retail, customer service, hospitality, and service.
Josh Bersin, founder of Bersin by Deloitte, estimates training costs at 10-20% of an employee's salary, over 2-3 years.
That's about it on our end.
We hope you find useful, actionable stuff in the above.
Let us know how you solved training evaluation problems in your organization on our Twitter page!