Before you sign off on that humongous training program for your employees, HEAR US OUT.
You're having doubts either way. You're thinking "will this pay off", "will it help reach my objectives", "will it increase productivity".
And you're right, too. There's a ton of people out there weighing this stuff at this very moment. Just like us and yourself, right now.
Did you know that 20% of training participants call it quits from the very first day of training? According to the 2014 ATD State of the Industry Report, an approximate USD 1,208/employee was spent on learning activities in 2013.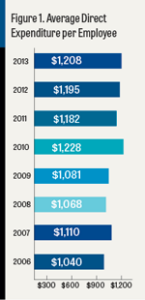 With a growing trend, in terms of costs, you want to make sure your employees make the most of that training. That they come prepared and motivated.
Well, there's exactly one thing you need to do for that. And it's called pre-evaluation mobile training. In other words, all the things you need to do before your training, so you make sure it starts off with a bang!
Here's where Gamification comes into the picture. Literally.
Gamification is design that places emphasis on human motivation, as opposed to functional motivation. It's based on applying the fun and engaging elements in games to real world productive activities.
Engage your employees by using Gamification models and incentives and start reaping the rewards!
Here are 4 simple ways you can do that.
Send out a pre-training briefing to all attendees, letting them know why it's them who will be attending and what is expected of them. This can take the form of a simple article with a few major points.
Include how the training is seen to contribute to your HR strategy and the company business overall. Why? Because that gives people meaning – one of the major drivers of human action, identified in gamification.
Share with them the context and give them a benchmark for expectations and personal objectives. Most importantly, show you care and keep them in the loop right from the start.
Circulate a feed-in form, asking employees to tell you what skills and knowledge they believe they need and what kind of training they would like to have. They might say they learn better from a classroom style training, or maybe an interactive one.
The idea is – they almost always know better! Don't underestimate them.
Take the chance to ask for a feedback on the last training they had. What did they feel was lacking? What worked and what not – and why? Do they have any suggestions for teambuilding activities?
Go out on a limb and give them the chance to feel empowered. People are hugely driven if they're allowed express their creativity and get some sort of response or feedback for it.
Don't miss out on this opportunity at communicating to the most important stakeholder in the training – the audience.
Share a food for thought question that asks employees to name ways in which they would fill 1 hour of the training. Do this via whatever learning management system your organization uses, or the traditional e-mail.
Remember those stories about the 80%-20% time scheme at Google? Their employees get that 20% exclusively for their creative, side projects.
They own that quality time. Make your employees own the training too.
Gamification shows that when people feel ownership, they tend to invest more time and energy into something. Make people feel more engaged and like they've got more skin in the game.
p.s. remember to really allow them that 1 hour, if they'd rather do their own thing!
Send one, or several, short point-based quizzes checking how much of the required reading they've done, before the training. These readings could be anything from case studies, to relevant stories, to theoretical frameworks, etc.
Even if you don't deem it crucial to have pre-training readings, consider including them. Why? Because giving people a chance to do well and score high will give the a sense of accomplishment.
This could reflect in a nice, fun diploma or badge they receive at the beginning of the training, or a simple mention and Congrats! from the trainer or their line manager. Make them feel prepared, but also make sure they start out with an open mind and attitude towards the entire activity.
Does it seem too good (& easy) to be true? Try it and see the results for yourself.
And then let us know on our Twitter page!